Summer is here, and mosquitoes make people headaches. As long as there is a mosquito at home, you can not sleep peacefully all night. In addition to mosquito-repellent incense, toilet water, and other "remedy" tricks, screens are the main means for everyone to prevent mosquitoes. It also has more tricks than the previous fixed screens, including invisible screens (roller screens) and Pleated screens, etc. However, some people have a special liking for old-fashioned screen windows and believe that they are durable.
Screen window Functions
1. When opening the window, it prevents mosquitoes, flies, and other insects from flying in or crawling in;
2. It can filter some of the fur and debris that enters the room;
3. A certain function of blocking the line of sight;
4. Can decorate doors, windows, and rooms;
5. Prevent some small debris from going outdoors;
6. Screen windows with protective rails can also prevent children from falling down the building.
---
Types of Screen Windows
Fixed Screen windows
Fixed screen windows, or frame screen windows are the old-fashioned screen we have used in our homes, with four frames.
Its advantage is that it is durable and the price is moderate, and it is still sought after by many users. Hence there are many on the market.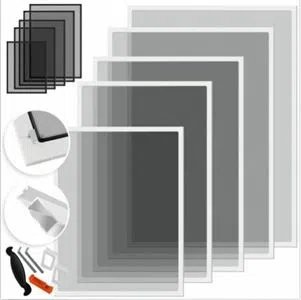 The soft magnetic strip screen is to past the magnetic strips around the window frame, the screen is therefore equipped with magnetic strips around the screen.
When using the screen, the screen is attached to the window frame. When not in use, the screen is removed.
The magnetic screen window is very popular since it first appeared on the market.

Retractable screen window
Retractable screen window, roller screen window, is the most popular screen on the market. Generally, invisible screens can adjust the spring force in the cassette.
It has been suggested that this type of new type of screen is easy to break. This is because you are ordering low-quality invisible screens.
The common invisible screens and screens technology has been very mature.

Pleated screen window
Pleated screen have appeared on the market these years. Pleated screen windows look more elegant as they fold like fans.

At first glance, the retractable screen window is nothing unusual, isn't it just a frame on the door and window frame?
actually not.
The profile wall thickness of a single screen window has a lot of knowledge, ranging from 0.4 mm to 1.2 mm.
The better screen window is generally 0.7-1.0 mm, and the screen window of this thickness is relatively strong.
The screen windows sold by some small manufacturers have a thickness of about 0.5 mm. They feel bad, are soft, and are hard to see with the naked eye.
You need to use professional tools to measure them or compare a few households with manual pressure. That is to say, you can choose a thicker one.
The aluminum used in screen windows is also very particular. The poor quality is all-aluminum alloy frames made from scrap recycling.
This type of frame has poor color and is easy to peel when the sun grows. The price gap is very large.
---
At Smartex, you will always find the right insect protection. Trust a real expert when it comes to protecting the insect screen business. We have been in this business for 15 years, and we offer OEM production for many famous brands in the US and Europe. Hopefully, we could be your partner and we together occupy more market share.