As a complementary to fiberglass standard insect screen,Stiff screenis produced for some retractable screen windows and doors, as it is more lighter, and premium quality and clarity.
Stiff screenis fiberglass insect screen that provides durable and long-lasting protection against all types of insects, and excellent for use in retractable applications.
We offer Middle Stiff Screen and an enhanced stiff screen called Most Stiff Screen.
Stiff Screen is made of thinner yarns and tighter weave compared to standard fiberglass
Unique construction allows for sharp and brilliant visibility through windows, doors, and all retractable applications
Better light transmission, airflow, and insect protection than standard
Both fiberglass standard and stiff screen are ideal for all retractable window, door, and enclosure applications. The attractive appearance, excellent outward visibility and easy installation allows for a wide variety of additional applications.
Smartex has our own production line and R&D team. We have been focusing on producing and exporting various insect screen products for many years. We have steady customer basis who rely on our expertise and good service.
Smartex Most stiff mesh is highly close to TIE's (Italian brand)
Moreover, we are able to produce as thin as 0.27-0.28mm which enables our stiff mesh to be held more in the cassettes of roller screens systems.
And the mesh surface is neater, hence it can roll up and roll down more smoothly, not easily dent, crease, crinkle

We are able to produce various insect screens while offering moderate prices. Smartex is always ready to serve you. We have been helping many of distributors in your region expand the business. Call us today to learn more.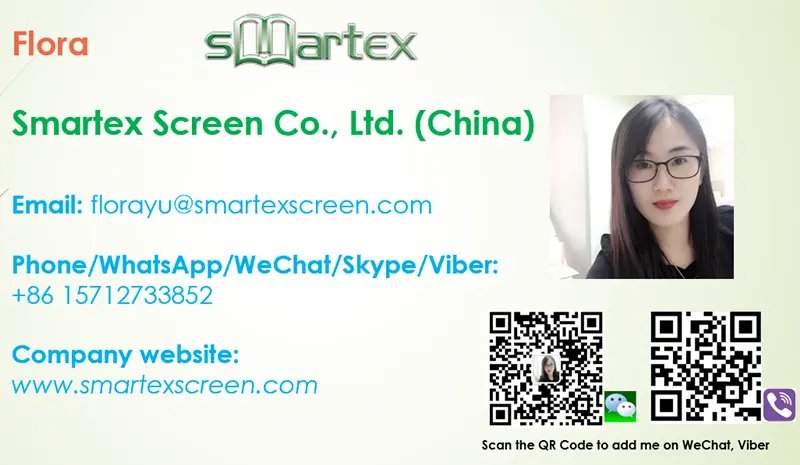 Contact: Flora
Cell phone: +86 15712733852
WhatsApp/WeChat/Skype/Viber:+86 15712733852
Email: florayu@smartexscreen.com