Window screens are a must for homeowners, especially in hot summer times. When you research window screen materials, you might get confused about what is the most suitable for your home use. Although it seems there are many options to choose from, there are only three categories of window screen materials: Fiberglass, polyester, and aluminum.

By seeing this, you may come across a new question: which is better? Fiberglass mesh, polyester screen, or aluminum net? See below for the positives and negatives of insect screen materials:
Comparison: Fiberglass, Polyester, and aluminum Fiberglass insect screen:
pros:
-Inexpensive
-Many options available
Cons: -Less durable
-Fades over time
Comments: most commonly used in the fixed window screen, retractable screen window, roller fly screen window

pros:
-More expensive for more heavy-duty features
-Cheaper option for some simple and not durable options
Cons:
-Heavy-duty mesh: less transparent
-cheaper option: less durable
Comments: Heavy-duty polyester mesh, we commonly see Pet Screen (Dog Screen, Cat Screen), Tuff Screen (Pool & Patio screen)

Cheap polyester mesh: commonly used in some door curtains.
Another window screen that is made of polyester mesh is the pleated screen / Plisse screen / zigzag screen.
pros:
-Strong
-long lasting
Cons:
-Dents and scratches easily (creates permanet creases)
-Expensive option
Comments: commonly uses in some coastal areas for the sake of it's durable features.

Types of Fiberglass Window Screens
For the best view when looking out your window, choose a dark window screen material such as Black or Charcoal.
There are many sub-types of window screen material made from fiberglass. Some are:
Fiberglass standard mesh (18x16 mesh)

Pool and Patio screen Fiberglass (18x14 mesh)

Betterview and Altra seeview (Improved visibility) fiberglass mesh (18x18 mesh, 20x20 mesh, etc)
The most common colors for fiberglass window screens are black, charcoal and gray.
Would you like to know how fiberglass mesh is produced?
See here:
Types of Polyester Window Screens
Pet Screen / dog screen/ cat screen

tuff screen / pool and patio screen

Pleated screen / plisse screen / zigzag screen
Types of Aluminum Window Screens
Aluminum window screens have been in use for decades and are thought of as the original window screen material. There are only one type of aluminum screening: 18x16 standard aluminum screen wire. Aluminum wire is available in three colors: Black, Charcoal and Brite (silver).
Would you like to see how the aluminum mesh is produced?
See here:
Smartexhas our own production line and R&D team. We have been focusing on producing and exporting various insect screen products for many years. We have a steady customer base who rely on our expertise and good service.

We are able to produce various insect screens while offering moderate prices. Smartex is always ready to serve you. We have been helping many of distributors in your region expand the business. Call us today to learn more.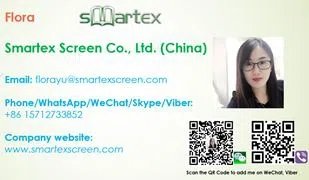 Contact: Flora
Cell phone: +86 15712733852
WhatsApp/WeChat/Skype/Viber:+86 15712733852
Email: florayu@smartexscreen.com