Products Show
Aluminum plisse screen door  SMT-P-001A1, SMT-P-001A2, SMT-P-001C1, SMT-P-001C2,Enjoy the warm summer evenings with the windows and doors wide open. Sleep a restful and well-deserved sleep undisturbed. The pleated insect screen door protects you in an ideal and non-toxic way from annoying insects.
Easy to open and close: The insect screen plissé folds or unfolds almost silently. It always stays where you let it go. 
Space-saving folding system:When open, the pleated screen mesh disappears entirely into the side frame profile.
Easy to assemble: The aluminum frame can simply be screwed to the door frame for both front-fixing or recess fit.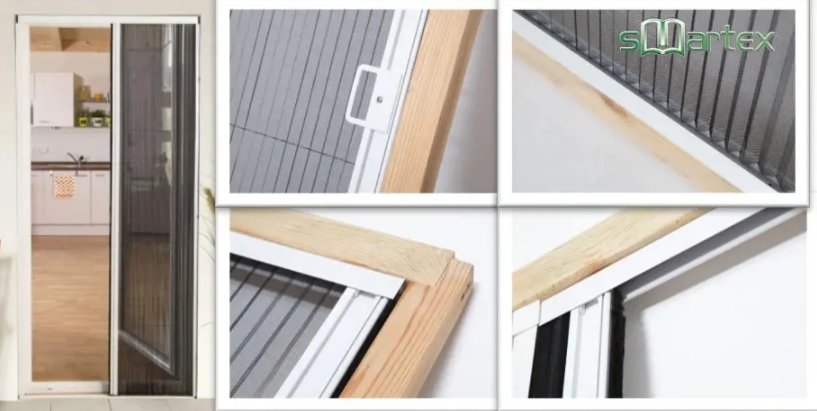 Product name

Plisse screen door

Model Number

SMT-P-001 A1(Single door)

SMT-P-001 A2(Double door)

SMT-P-001 C1(Single door)

SMT-P-001 C2(Double door)

Size Scope

Wmax:1.6m Hmax:2.5m

Wmax:3.2m Hmax:2.5m

Frame Material

Aluminum Alloy

Frame color

White, grey, brown, or as you request

Open Style

Horizontal Folding

Place of Origin

Hebei, China (Mainland)

Mesh Type

Plisse/Pleated Mesh

Mesh Color

Black or grey color

Brand Name

SMARTEX
Product Advantages
1. Simple European-style design, Economical cost, competitive prices for high quality products
2. Traditional European design make it good sales for many years and get high recognition from many big customers
3. Environmental friendly and protects against insects(REACH standards can be done)
4. Many sizes available according to different customer's demands
5.   5.8m-rail pre-assembling kits available, suitable for local makers
6. The innovative pleated door can be stopped in any position you desire
7. Spacing saving, easy installations
8. It can be done single plisse insect screen door and double plisse insect screen door